Playground | Play Areas | Playground Spring Rocker Rides & Springers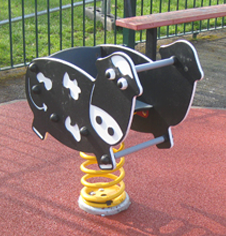 OMG Public parks grade playground springer rocker ride units. High quality PVC laminate construction with heavy duty springs in a variety of designs and bright colour themes to suit junior users. Robust anti vandal construction with colour options. Mounted directly into ground with a 15 year guarantee on all steel work.
Equipment installation service

We offer a nationwide advice and installation service for heavy duty sports equipment & sports surfaces for schools, universities, leisure centres and local authority use. Heavy duty playground and sports equipment installation. Perimeter fencing. Artificial sports pitch construction. Risk assesments. IOSH CHAS certified. More info
Since day one the impact the multi sports games area had on our outdoor recreational play facilities has been completely fantastic..
Andrew Philips - Wood Green
Multi use games area MUGA - Artificial 3G pitch design & installation
Installation services
Making improvements or restoring existing cricket and sports facilities. Undertaking initial research into a new outdoor sports installation project for schools, cricket or sports clubs. Indoor and outdoor commercial gym basketball system installations for schools, sports centres and councils. We manufacture a large range of MUGA heavy duty play area and sports equipment options to suit most commercial requirements and public use environments. We undertake heavy duty and public use cricket equipment installations, creating excellent artificial pitch and batting areas nationwide up to club and county level.

We can also help you with equipment maintenance options and facilities planning with simple clear cost layouts.



Design is key to a versatile high take up sports facility. Getting the design right sets the standard for the following stages and helps iron out unforseen challenges and can also find improvements to facilities or identify cost saving opportunities.

We can help you plan each stage of a build at a pace thats practical. All stages of the installation are planned and budgeted with the client in mind with the focus on safety and quality.
We have a nationwide service for installation with a fully qualified team of trades including building services, electrical, drainage and sports surface experts. Specialist sports knowledge areas include cricket artificial non turf pitches. 3G indoor and outdoor football pitches. Inddor and outdoor basketball courts and goal equipment. Multi use gaes areas and outdoor public use sports courts.