Sports Hall | Gymnasium | Electronic Gymnasium Wall Mounted Sports Scoreboards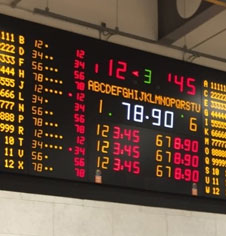 Sports gymnasium electronic display scoreboards. Wall mounted radio controlled electronic LED and digital scoreboards for commerical and institutional use. Quality wall mounted sports scoreboards suitable for all levels. All scoreboards are manufactured to the European standard DIN 18032-3:1997-04 and are fully R.o.H.S. compliant.
Equipment installation service

We provide a national school and gymnasium sports and leisure equipment installation service. Installing wall mounted PE apparatus. Scoreboards and wall mounted timers, sports hall dividing netting and sports perimeter screens and most gymnasium auxilliary equipment. We also offer IOSH & CHAS certified annual servicing inspections for commercial sports equipment. Please call for installation details and pricing.
Multi use games area MUGA - Artificial 3G pitch design & installation
Nationwide sports installation services
Making improvements or restoring existing cricket and sports facilities. Undertaking initial research into a new outdoor sports installation project for schools, cricket or sports clubs. Indoor and outdoor commercial gym basketball system installations for schools, sports centres and councils. We manufacture a large range of MUGA heavy duty play area and sports equipment options to suit most commercial requirements and public use environments. We undertake heavy duty and public use cricket equipment installations, creating excellent artificial pitch and batting areas nationwide up to club and county level.

We can also help you with equipment maintenance options and facilities planning with simple clear cost layouts.



Design is key to a versatile high take up sports facility. Getting the design right sets the standard for the following stages and helps iron out unforseen challenges and can also find improvements to facilities or identify cost saving opportunities.

We can help you plan each stage of a build at a pace thats practical. All stages of the installation are planned and budgeted with the client in mind with the focus on safety and quality.
We have a nationwide service for installation with a fully qualified team of trades including building services, electrical, drainage and sports surface experts. Specialist sports knowledge areas include indoor gymnasium and climbing equipment, sports flooring, outdoor stadia equipment, sports surfaces, cricket pitch design & professional basketball equipment.