Protection | Netting | Ball Stop Net Systems & Perimeter Post Sports Fencing Enclosures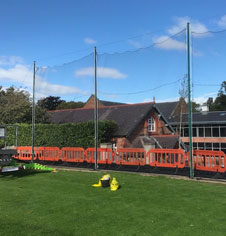 Sports ball stop netting and perimeter protective fencing post enclosures for cricket clubs, schools, univeristies and sports leisure centres. Boundary ball protection systems offer outdoor protective netting up to 16m in height with optional animal safety skirting and fixed or folding steel boundary perimeter posts. Protection netting available in 20mm and 50mm mesh with 4mm straining wire supports. Steel sports enclosures for MUGA and recreational areas.
Equipment installation service

We offer a nationwide advice and installation service for heavy duty boundary and perimeter ball stop net fencing for schools, univeristies, sports centres and clubs. Sports fencing and tennis enclosures. Steel security anti vandal mesh sports courts and MUGA surround fencing. Call 01295 565564 for details and installation pricing.
Our outdoor tennis posts were fixed into sockets as part of a minor court rennovation, which now allow the posts to be removed after use...
Rowan Pearce - LWA London
Football Perimeter Netting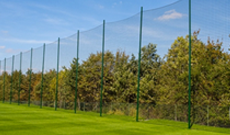 Cricket Ball Stop Netting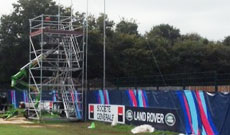 Protection Barrier Netting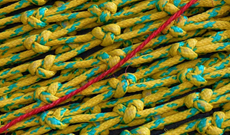 Sports Enclosure Fencing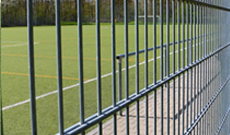 Fitness Sports Equipment
Sports equipment supply
Nationwide installation services
Registered sports equipment supplier to local authorities and academy trusts.
Experts in the design and creation of outdoor basketball, cricket and sports recreation facilities. Undertaking indoor gymnasium PE and sports installations for schools, leisure centres and sports clubs. Indoor commercial FIBA basketball system installations for schools, sports centres and local authorities. We manufacture a large range of MUGA Multi Use Games Areas heavy duty play area and sports equipment with options to suit most commercial and public environments.£We provide enclosed basketball and cricket practice facilities, creating excellent artificial pitch and match areas nationwide.

We can also help provide annual equipment maintenance and servicing plan options for sports facilities with simple clear cost layouts.



Design is key to a versatile high take up sports facility. Getting the design right sets the standard for the following stages and helps iron out unforseen challenges and can also find improvements to facilities or identify cost saving opportunities.

We can help you plan each stage of a build at a pace thats practical. All stages of the installation are planned and budgeted with the client in mind with the focus on safety and quality.
We have a nationwide service for installation with a fully qualified team of trades including building services, electrical, drainage and sports surface experts. Specialist sports knowledge areas include indoor gymnasium and climbing equipment, sports flooring, outdoor stadia equipment, sports surfaces, cricket pitch design & professional basketball equipment.